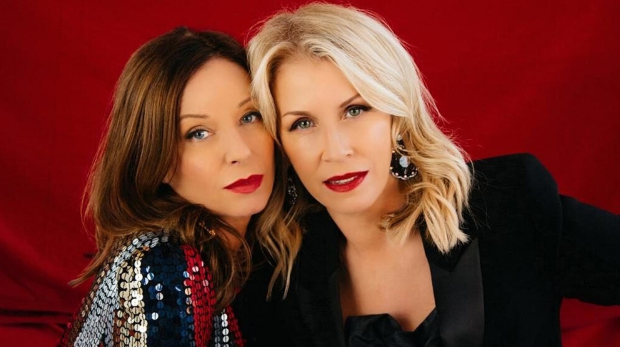 Keren Woodward and Sara Dallin chat to Celebrity Secrets about their incredible year following their massive performance at Radio Two's Live in Hyde Park concert
Interview Lynn Carratt
Is it more difficult performing as a duo than a trio?
S 'We've performed as a duo since 1988, so it's natural to us now. Siobhan [Fahey] re-joined us for the reunion tour in 2017, but Keren and I are used to doing it with just the two of us. We had a hilarious time with Siobhan because you're always aware that three people can look a bit messy and it's also harder to choreograph.'
Do you enjoy being part of Bananarama more now than at the height of your fame in the 1980s?
S 'It's very different. We had the excitement of youth, getting our first record deal and been on Top of the Pops. For the past 15 years, we have been able to tour, and that was something we only did once in the Eighties, in 1989 – and Siobhan had left the band by then.'
K 'These days, we get to concentrate on what we love doing, which is the touring and the song writing because, back then, we were doing promo all over the word. This year has been hectic, though. We started in the USA in January, then went to Australia, then we had Glastonbury followed by Tokyo. It's been an incredible year – we're thrilled!'
What has been the highlight of your 40 years in music?
K 'There have been so many. I would say finally being able to do a world tour in 1989 was just a massive moment for me. Everyone has their ups and downs, and it can be a tough ride for women, and I'm so proud that we have kept it going. We're tenacious.'
S 'I trained as a journalist briefly, so I feel fortunate now to be able to write music, as writing is what I love.'
Is there anyone you would like to collaborate with?
K [laughing] 'The Weeknd. I think to collaborate with someonr wholly unexpected and current would be really cool.'
Tell us about your new live album, In Stereo…
S 'It's out on 1st November. We did some very intimate fan shows over the summer and decided to record some of our favourite tracks from them and release it as a live album.'
Do you find you've got new fans now as mums and dads bring along their children to gigs?
K 'Yes, I think so. I used to play The Beatles and David Bowie in the car with my son. I think music gets passed down through the generations.'
What is your favourite Bananarama song?
S 'It has to be Cool Summer. It was our first big hit, and it went to number 10 in America. It was so thrilling to go there. I'd only ever seen New York on the TV before that.'
Keren, you're back on the singles market. Are you finding it easy to date again?
K 'I don't think it's difficult to date, but I'm not in any great hurry to settle down again. I'm quite enjoying my single status at the moment!'
Listen to BBC Radio Two on 88-91 FM or DAB for more information visit: https://www.bbc.co.uk/radio2