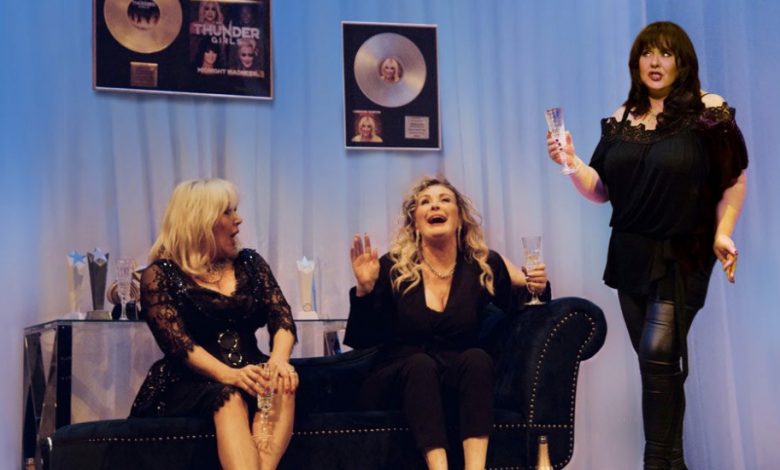 Coleen Nolan is reprising her role in the smash hit play The Thunder Girls as it heads on its first major UK tour in autumn.
The Thunder Girls, based on the number one bestselling novel of the same name, follows a fictional 80s girl group who haven't seen or spoken to each other in 30 years after greed, envy and ego tore the band and their friendship apart.
The play, which also features original music and songs, focuses on the 'the girls night in from hell', as former lead singer Chrissie Martin, played by ex-EastEnders's star Carol Harrison, desperate to salvage herself from bankruptcy after being conned out of her fortune by her toy boy husband, organises a 'reunion' dinner, but it's clear that the main course on the menu is revenge.
Coleen Nolan reprises her critically acclaimed role as bandmate Anita and Gary Webster returns in the role of their manager Rick.
Having turned down thousands of acting roles in the past, this is the first time that Coleen has ever gone on tour with a play and the longest she has ever acted.
While at first the 54-year-old was 'absolutely terrified of acting on stage', once she started she couldn't get enough of it.
She said: "Having lived and breathed the ups and downs of girl band life I knew as soon as I read the script that The Thunder Girls was the real deal!
"The preview audiences loved this show and believed every moment of our characters' lives and that's because they are real – but rarely ever seen! The Thunder Girls is like the ultimate sneak peak behind the velvet curtain of showbiz and what really can go on behind closed doors – to say it's explosive would be an understatement! It starts off at a hundred miles an hour and doesn't stop until the curtain comes down.
"When we got three standing ovations a night at its previews at the Lowry in Salford we knew the audience could see what we felt during rehearsals, so I'm so glad it's going on the road for 2020!"
One of the biggest achievements of The Thunder Girls so far is that it has opened theatre doors to a new audience with 80% of people who bought tickets to the preview of the play, never having been to the theatre before.
Coleen added: "All my career I've been lucky enough to have been offered fantastic acting roles in some of the most fabulous shows in the West End and touring, I'd always said no until I read the part of Anita, I just had to play her. I can't wait for the whole of the UK to now see what the preview audiences saw – they are in for the ride of their lives! Even if you don't usually go to the theatre, come and see The Thunder Girls, because it really is the perfect night out!"
TOUR DATES
SEPTEMBER
Tuesday 1 – Saturday 5 – The Orchard Theatre Kent
Tuesday 8 – Saturday 12 – Stockport Plaza
Tuesday 15 – Saturday 19 – Shrewsbury Theatre Severn
Tuesday 22 – Saturday 26 – Newcastle Tyne Theatre & Opera House
Tuesday 29 – Saturday 3 October – Poole Lighthouse
OCTOBER
Tuesday 6 – Saturday 10 – Nottingham Theatre Royal & Royal Concert Hall
Tuesday 13 – Saturday 17 – Edinburgh International Conference Centre
Tuesday 20 – Saturday 24 – Cardiff New Theatre
Tuesday 27 – Saturday 31 – Liverpool M & S Bank Arena
NOVEMBER
Tuesday 3 – Saturday 7 – Hayes Beck Theatre
Tuesday 10 – Saturday 14 – Croydon Fairfield Halls
Tuesday 17 – Saturday 21 – – Croydon Fairfield Halls
Tuesday 24 – Saturday 28 – Rhyl Pavilion