Strictly pro Neil Jones kept himself mightily busy this year. Firstly he passed his CBT motorbike test during lockdown – something he's always wanted to do and then he's taken up some very interesting hobbies.
Checklist catches up with the eight-times British national dancing champion about his newfound passion, tattoos, and all things ginger.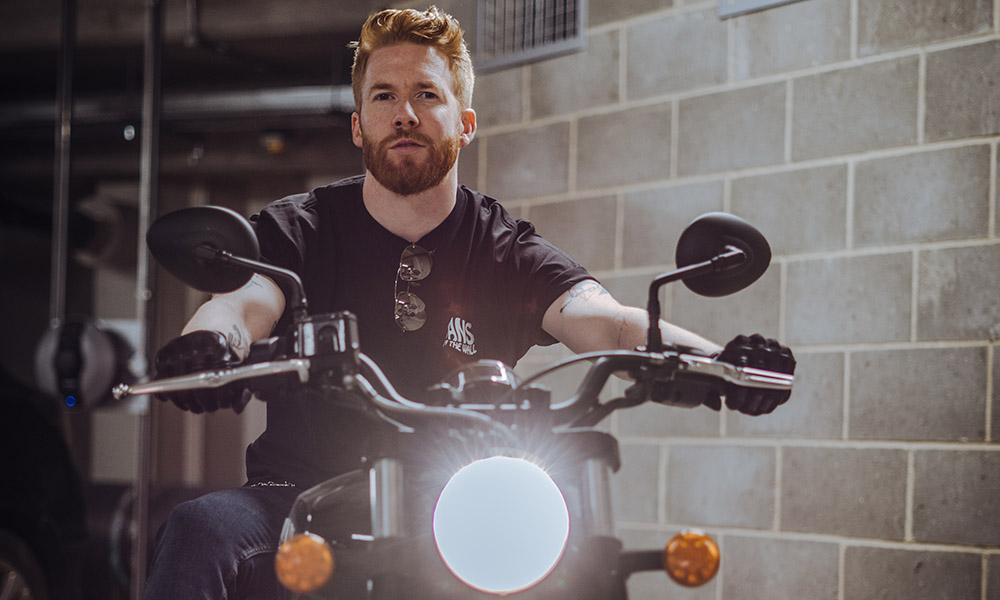 So, you learnt to ride during lockdown 2020 – were you into bikes as a child?
I fell in love with motorcycling at a young age, biking was always something I wanted to do. My mum would always try to put me off – it doesn't matter how old you are, your mum always gets worried about you! I kept telling her I wasn't into fast superbikes, – for me, it's about cruising and a chilled ride rather than speeding around.
I grew up in Bordon, Hampshire and there were army tracks where we played on our scramblers. I never knew when, but I always knew one day ride a 'proper' bike. When I was younger my brother had a bicycle and he wouldn't slow down – and because I wasn't in control, I put my foot in the wheel and damaged my heel. Even today I will never get on the back of someone else's bike – I only feel safe when I'm fully in control.
Which bike did you do your CBT test on?
I wasn't paying attention when I booked my CBT and I ended up doing an automatic test instead of a manual. On the same day, my brother was doing a manual test elsewhere. The bike I had already purchased was from Crazy Horse – a beautiful Fantic Caballero, it's a scrambler 125cc and you guessed it…a manual.
So, I did my test on the automatic and then I had to book in for a private lesson for a couple of hours to understand how to work the manual bike. The first bike I had was a Fantic 125cc, the amazing thing about the bike that it looks the same size as all the other powerful versions (the 250cc and 500cc) in the same range – it's incredible really.
Were you a natural?
I passed my theory test the first time, and then, because of filming and restrictions, I had just two weeks to do the CBT. I booked my mod one on a Monday and the mod two on the next Wednesday. There are no rules on how many lessons you need to take.
It was a risk to book the two tests so close to each other as to take Mod 2 you have to you have to pass Mod 1 – but I did thank goodness! I had limited time on my side as I had to isolate before the Strictly show so I needed to pass the modules in that short space of time.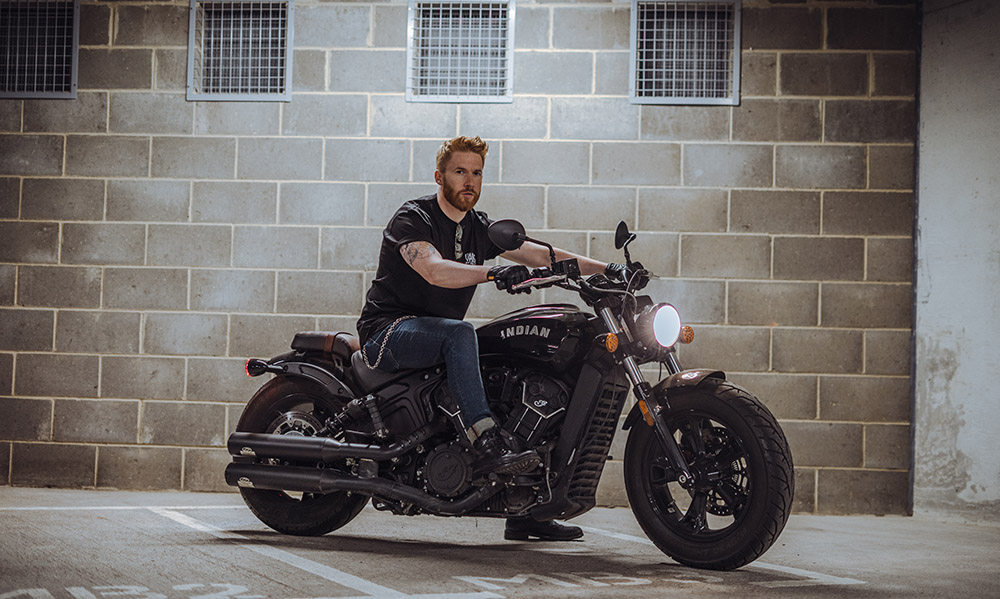 Did you learn any other hobbies during lockdown?
I always loved cooking, but I am really into graphic design and drawing and over the last lockdown – I learnt to tattoo! At first, I got myself a stick-and-poke kit and began practising on silicone.
I realised it was going to be a lot easier tattooing myself, so I went for it and now I've got three tattoos on one leg. For my birthday my family got me a proper tattoo machine; a few tattoo artist friends gave me some pointers, so I've now started on the other leg!
Which bike do you have now?
It's funny, I was walking about in London after things started to open up again and I saw this bike on the side of the street. I took a picture of it thinking to myself – what is this beautiful machine? I found out it was an Indian Bobber 60, which is the company I'm now an ambassador for. So, I made contact, we started talking and that's how it all came about and how I have one at home.
It's a big step up at 1000cc, but I'm selling the other one at the moment as I don't want to go back to it. I love the Indian bobber so much and Crazy Horse kindly hooked me up again. I went to check out their new Chief model recently, it's even more powerful – so that's next on my list!
Which gives you the biggest buzz – dancing or riding?
Dancing I've done all my life, I enjoy it and it's something that just comes naturally to me and I love learning new moves. But riding, especially when the streets are quiet you can just flow around. As I said, I'm not about speeding, it's just so nice to just go for a calm ride – even if it's not anywhere in particular – just literally a ride.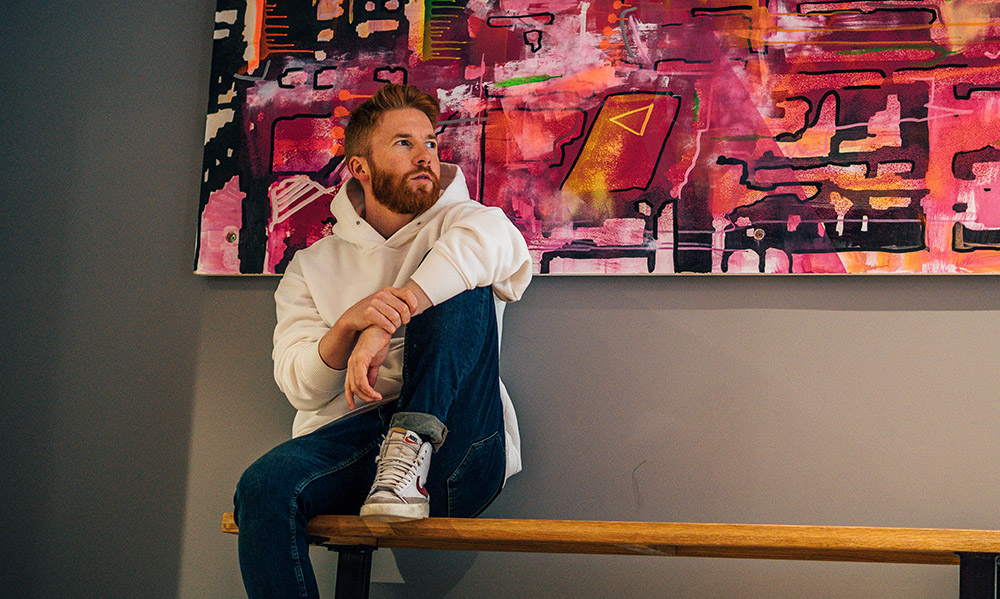 If you could go for a bike ride with anyone – who would it be?
I'm a big Liverpool fan, so if he could ride, I would love to drive with Liverpool's James Milner, or even Klopp – just to know how his brain works! Even though I'm a dancer – I love sport, especially football.
What else is coming up for you?
We've got the new series of Strictly until December. Once a week I Wakesurf at Thorpe park on the lake. I don't care if it's a lake, a river, or the sea, or if it's freezing; that's where I need to live!
Then there is the Gingerland tour which I created celebrating everything about gingers! I always joke with friends about how suddenly ginger hair has become trendy – and it certainly wasn't that way when I was at school! It's been postponed so many times but is definitely happening in 2022 – and we'll be travelling all around the UK.
The whole show is about, yes, you guessed it – being ginger. Featuring historical gingers, myths about gingers, things people might not know about gingers as a whole. It has singing and dancing and will hopefully educate people on the history of ginger hair. I might even sing one or two songs – we will hopefully have a few original soundtracks created especially for Gingerland.
Lastly, I have a podcast: Tall, Blonde, and Ginger, which is up to its third recording season. I do the podcast with my two friends and we have some really interesting guests coming up. We're all retired competitors with completely different personalities, so it works well. We tackle everyday topics – it's light-hearted and funny and about the way we all look at the world right now.
To see your company in any upcoming features we are arranging please email editorial@hurstmediacompany.co.uk