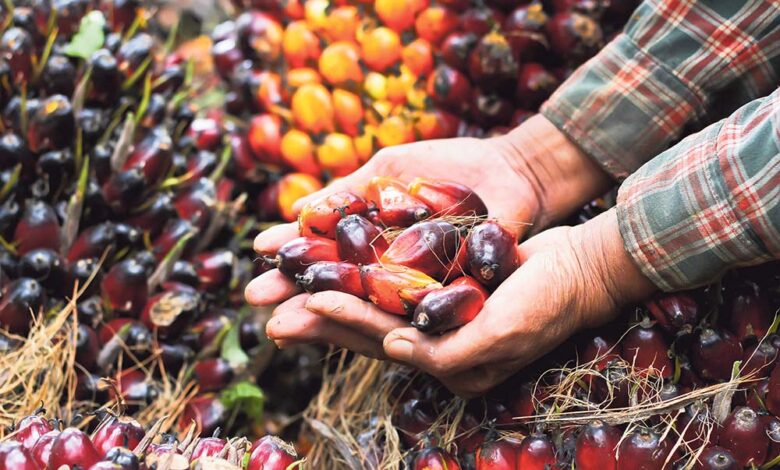 It's a controversial ingredient in countless products, but what is the problem with palm oil — and can it be avoided?
Environmentalists, human rights campaigners and animals are all against it. It makes up a multi-billion-dollar-a-year industry and you can find it in food as well as beauty products and cosmetics.
Yet despite being such a common, everyday ingredient, palm oil is facing increasing opposition due to the widespread deforestation it has led to, particularly in Indonesia and Malaysia.
A vegetable oil made from oil palm trees, its cultivation has grown rapidly and seen rainforests razed in order to grow it. It is estimated that an area equivalent to 300 football fields of virgin rainforest is cleared each hour to plant the palm.
Greenhouse gas emissions are produced when clearing forests. The lack of forest then also leads to less carbon dioxide being removed from the atmosphere, making the practice doubly problematic.
Much of Indonesia's forest grows in deep, swampy peat which stores huge quantities of carbon.
For a healthy oil palm plantation, dry land is needed, yet draining the peat – as is the practice – leaves the peat highly flammable. Huge forest fires have broken out as a result, causing major health problems for those living downwind.
Palm oil cultivation is estimated to be responsible for 10% of all greenhouse gas emissions globally. People and animals indigenous to the forest are also displaced and many animals will not survive outside of their natural habitat. Added to which, plantation workers in Indonesia consider orangutans a pest and are believed to have killed as many as 1,500 orangutans in a single year.
Having seen first-hand the implications of palm oil production while living in Bali, Preyanka Clark Prakash felt compelled to find alternatives. This led to her and her husband setting up Bloomtown, an ethical beauty brand which uses no palm oil.
"Those who argue that palm oil is necessary because it's a high yield crop don't seem to understand that no crop can be high-yield enough to justify such widespread deforestation and species annihilation," said Preyanka.

Lower-yield crops planted in less ecologically sensitive regions would be far more preferable. "They do exist, they're just not as cheap."
In 2004, the Roundtable on Sustainable Palm Oil (RSPO) was set up to reassure consumers that palm oil didn't have to be a no-no. Members include Unilever, Cadbury and L'Oreal. Around 19% of the world's palm oil is now RSPO-certified, but not everyone is convinced it's the solution.
"Sustainable palm oil really just means using already cleared land, and because the global demand for palm oil is ever increasing, we need to prevent more virgin forest from being cleared by reducing overall demand," said Preyanka. "Reasonably priced, palm oil-free alternatives are a necessary part of the sustainability equation."
To see your company in any upcoming features we are arranging please email laura@hurstmediacompany.co.uk or editorial@hurstmediacompany.co.uk