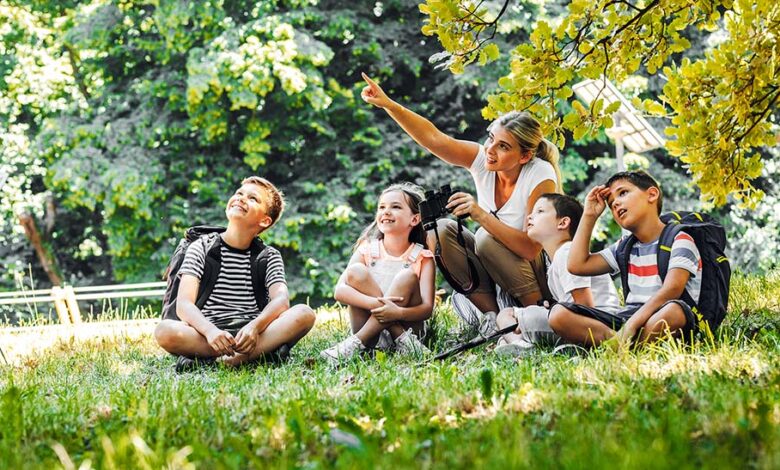 Studies over the last century have pointed to improved wellbeing and better emotional, mental and physical health for children who spend more time in nature.
The benefits of outdoor learning have long been celebrated by education experts. Probably the most well-known method is Forest School, though there are many disciplines which use the natural world as a teaching opportunity, under titles such as field studies; bushcraft; Earth education; horticulture and environmental education.
Many mainstream and independent education institutions have incorporated these findings into their approach. Reception classes and nurseries will typically have outdoor learning areas, while some forest and woodlands now have dedicated spaces for children to gather in for educational activities. This kind of outdoor learning is perfect for developing the minds of primary school aged children. As young children adapt easily to changing surroundings and often embrace the outdoors.
Being in an inner-city urban area does not preclude schools from getting involved in outdoor learning – a park, stream or even the school playground can provide an appropriate space.
Caroline Jamieson is a BTEC level 3 Forest School Leader focused on Outdoor Education.
Caroline says: "Learning environments should cater for the children in them. Problems occur when there is only one outcome provided – like trying to fit a round peg in a square hole, children come in all shapes and sizes and differ from year to year, so learning environments need to be flexible and transient to meet the needs of the cohort."
The Forest School concept originated in Scandinavia and this learning method recognises the importance of children's contact with nature. It is a holistic and sensory learning environment that provides inclusive opportunities for children to learn through practical activities regardless of their individual needs.
Shifting weather patterns and seasons can offer intrigue and discovery for children and provide different educational opportunities which arise spontaneously. Forest school provision provides a relaxed and effective way of learning and caters for children's unique learning styles while promoting independence, teamwork and increased self-esteem.
Forest school is particularly effective for primary school children and those who find it difficult to learn in a traditional classroom. It removes the pressures of academia and allows pupils to enhance their strengths at their own pace.
Outdoor learning provides a wealth of opportunities for pupils to learn physical skills like sawing, drilling and whittling in a calm, non-invasive setting. Children learn to carry out their own risk assessments and make informed decisions and choices where they can test their own abilities and challenge their boundaries. This results in children becoming more confident in utilising large spaces and also helps to grow their love for their environment for generations to come.
Caroline adds: "With technology and screen time so prevalent in our society, it is especially important now to counteract the previous two years of online learning to balance children's mental health and wellbeing by ensuring our future generations go back to nature and children have the time and space to appreciate and learn from the world around them as there are so many more learning opportunities in nature than anything we could create."
To see your company in any upcoming features we are arranging please email editorial@hurstmediacompany.co.uk