Love Island star Demi Jones speaks to Celebrity Secrets about her go-to beauty products, her views on social media and what really goes on behind the scenes on the ITV dating show that put her in the spotlight.
Which social media or beauty influencer do you admire the most and why?
Mikayla Nogueira, she has 12.6M fans on TikTok – she does everything beauty and make-up related, she's just so authentic, herself, down to earth and say's it how it is – which I love. She does really cool looks and just keeps it real. 
Do you have a go-to beauty look?
I'm such a full glam girl. Usually big eyelashes and a bronzey glowy look. A lot of people ask me why I wear so much makeup? Doesn't it take you ages to do? For me, it brings me so much confidence and I love trying out new products.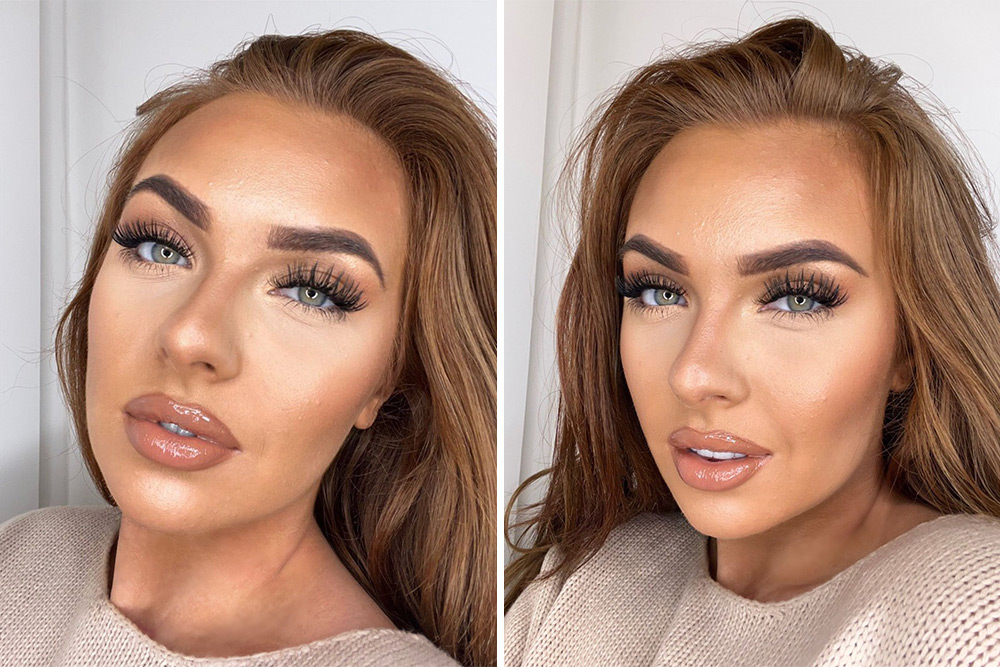 What are your must-have favourite products?
Tatti Lashes – I love a big lash. Bobbi Brown Vitamin Enriched Face Base, it's really creamy and gives you a dewy finish – I think if you start with a good base everything else can be built around it. 
Project Lip's Plump and Gloss, you always want lipgloss in your bag. It's a high-shine gloss that has a tingle sensation on plump lips. I launched my own lip kit with them a few years ago, they expanded their range to glosses, balms and liners. 
Also, Maybelline Instant Anti Age Eraser Concealer – I actually buy a darker shade and use it for my contouring. It's super creamy, gives me great definition and really affordable, it's probably one of the best contour products I've used. 
According to you, what kind of content works?
For me, video tutorials really work, like GRWM – people want visual step-by-step guides on how to achieve looks at home. My audience love to see how I apply my lashes and how I do my hair. 
My fashion looks work well on grid posts such as full-length outfit shots – followers will save these for the outfit inspo I tag the brands as well so they know exactly where to buy the items from.
If there was one thing you could change about social media, what would it be?
There's so much judgement and trolling that comes with social media – I wish it was a more welcoming and positive space at times. Before Love Island, I worked in retail and my colleagues would always say, "you should start a YouTube channel for your make-up tutorials" but I was so embarrassed and scared people would judge me. 
What is your favourite thing about being in your industry?
The opportunities I've had and the people I've got to meet. If you had told me two or three years ago I would be meeting these celebrities, music stars and brands I've always admired I would not have believed you.
Any advice you would like to give to those looking to get into a similar industry?
Social media content creators need to be super confident and just go for it. Ignore the haters and just take the leap. Be yourself, if you're not being authentic to yourself your potential audience, and brands who you might want to work with will see through it. Be yourself and you will go far.
What inspired you to go onto Love Island?
It was my favourite TV show. I was absolutely obsessed, I watched it since season one and I could not believe my luck when I was scouted. I wanted to have this once-in-a-lifetime experience, I can't believe I was scouted and there was no doubt in my mind that I was not going to go for it. I'm so glad, it was the best experience of my life. 
What was your favourite thing about being on the show?
The feeling of family. You're put in this villa, in a beautiful location with people you've never met before all having this really unique experience. But for me, we had no phones and were with each other 24/7. You think you might get bored but you really didn't because we got to really know each other – I laughed so hard every day. 
Looking back, would you do anything differently?
I would be a bit more confident, looking back I look so young and naive. I wish I stood up for myself a little bit more – standing on my own two feet and speaking out on things that I thought weren't right or when things were said that I didn't agree with. Looking back, I was 21 and I wished had a bit more oomph and confidence. 
Can you tell us a secret about being on the show?
I always get asked "are you actually recorded 24/7?". And the answer is yes! There is nowhere to hide, there are cameras everywhere. There's one in the toilets but it's just for security reasons but I'm sure you can imagine it's very embarrassing going to the toilet, trying to take off your swimsuit and you have a camera in your face. 
Do you think you would consider being on another TV show?
If the opportunity did arise, I heard Big Brother was making a comeback. I feel like I'm a different person now with my confidence, maybe a dating show.
What other projects do you have in the pipeline that we can look out for?
I'm looking forward to showing all the content I've created for brands that I've got coming up. Brands I've loved since I was younger and content that's really true to myself. This year I'll also be looking into my TV presenting opportunities so fingers crossed you will see me again on screens very soon.
To see your company in any upcoming features we are arranging please email editorial@hurstmediacompany.co.uk