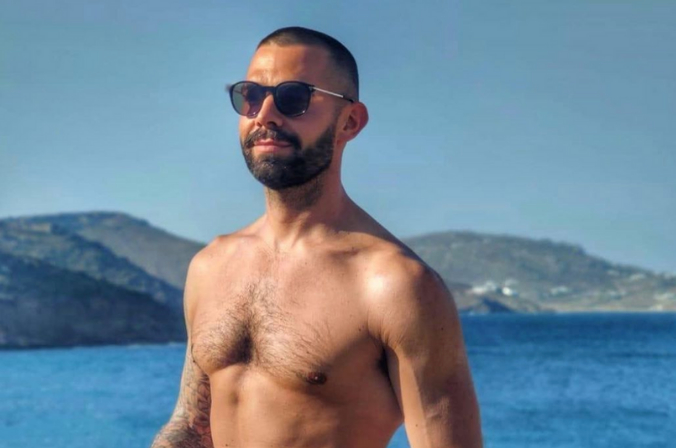 The former TOWIE star and personal trainer on getting the GC in shape – and what he really thinks of Arg
You own your own fitness business, Charlie King Fitness. How's it all going?
'Really well, and I'm very excited that I will soon have my own fitness facility in London. It means people will be able to come down and train with me and my team of trainers! It's a very scary but exciting time and taking lots of work to get underway. My online business is also great for people far away who still want support and guidance in their fitness journeys. It's a full-time job!'
You look very different from when we first saw you on TOWIE! What was the reason that made you hit the gym and change your shape?
'I just wanted to grow. Mentally I was going through a big change, finally identifying with my sexuality and wanting to transition from a bit of a lost boy to a man. Going to the gym was a coping mechanism for my mental health, putting my energy into something that made me feel better about myself.'
Have you ever been on any health or fitness retreats in the UK or abroad?
'I haven't been to any real retreats but I went to an amazing resort in Antigua which was very into its wellbeing. I enjoyed yoga, water-sports and gym sessions, all of which were mixed with amazing food. I was also asked to host a retreat in Sri Lanka a while ago, but unfortunately they had the terrorist attacks which meant it got called off. I will definitely do it when they set a new date, though.'
What advice would you give to people who can't afford to go to the gym?
'There are always options for those who can't afford gym memberships. This is where you should turn to YouTube, as there are so many workouts and guides devised by trainers to help people. You'll be surprised what you can do with a park bench and a little imagination. Body weight exercises with strict timed rests will help kick-start your fitness journey.'
What do you tend to eat in a typical day?
'I start with rolled oats and berries, then snack on yoghurt if I'm feeling peckish. Lunch can be anything from poached eggs and avocado or homemade soup. I fill up on cashew nuts or corn cakes to keep me going until my evening meal, which tends to be chicken or tuna with veg, salad or occasionally rice. I'll have a couple of Jaffa Cakes if I want or some Rich Tea biscuits with my evening brew, and I make sure to drink between two to three litres of water.'
Do you take any supplements or protein shakes to keep your fitness levels at their best?
'I don't take protein supplements at the moment as I'm not as strong I can be due to my surgery. I will take multivitamins/glucosamine and cod liver oil when I'm training harder, though. I'll also use a protein powder to help build my strength and muscles back up again.'
Ae saw you training Gemma Collins on her TV show. Has being behind the camera again made you consider a return to TOWIE?
'My career has taken a while to build up so I need to nurture that now. I want to build a more stable life for myself and continue that way. Little features and appearances in shows are great though, and I'd love to do more fitness TV segments.'
Would you ever consider working with Arg to help him shape up?
'I like to work with people who are serious about wanting to change their lifestyle and how they see themselves. It requires a lot of work away from a trainer or the gym, and that's where a lot of people go wrong. I'm always open to working with people who really want to work on it. Arg would need to prove to me he really wanted to change. Being a trainer means you give a lot of yourself to a client, so it has to be an equal relationship.'
Are there any other TOWIE stars you'd like to improve their shape?
'I saw Bobby a few months ago for London Pride and he's looking amazing. He goes to the gym now and has a good understanding of diet and exercise. I would love to have a session with him as we get on so well, and I really liked seeing his confidence recently.'
CHARLIE'S TOP FITNESS BUYS
1. TRAINERS
'I'm all about Nike Training Trainers for the gym. I'm rather selective about my footwear for different reasons and need durable trainers that look good and last. Nike smash it every time.'
BUY ME!
£134.95 https://www.nike.com/gb/t/react-metcon-training-shoe-TbjHwz/BQ6046-010
2. BANDS
'Resistance bands are a go-to for home equipment. You can buy them cheaply online and they can help with building muscles, as well as stretching and posture.'
BUY ME!
£3.99 https://www.decathlon.co.uk/100-elastic-band-medium-id_8527897.html
3. SMARTWATCH
'I do love a Fitbit to track my workouts and heart rate. A water bottle is also essential for keeping hydrated and looking after our environment. My fitness studio will be single-use plastic-free when it opens. I definitely don't want plastic water bottles in there.'
BUY ME!
£199 https://www.fitbit.com/uk/shop/versa
Find out more about Charlie's fitness empire at https://charliekingfitness.com
Read Charlie's full interview in the New Year's Resolutions issue of Celebrity Secrets, out in OK! mag bumper packs from 7th January 2020.