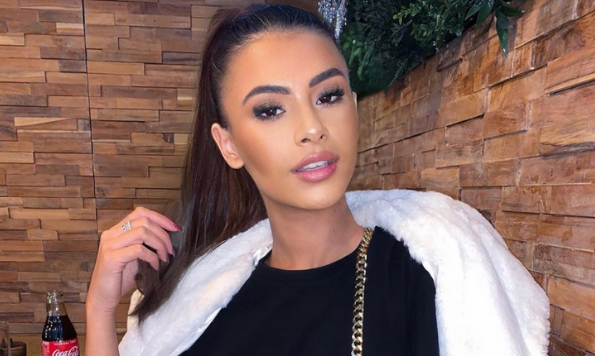 Joanna Chimonides, 22, a former recruitment consultant, entered Casa Amor last summer and caused a huge stir after catching the eye of flighty fellow islander Michael Griffiths. She's since gone on to work with Doll Beauty, a brand with fans such as Tamara Ecclestone, Khloe Kardashian and Little Mix, and she has created a Power Edit with In The Style. Here, we chat to Joanna about life after Love Island, men and beauty.
Interview Lauren Naylor
What does make-up mean to you?
'Make-up is something that instantly boosts my confidence – when I wear make-up, I feel like the day has just started!'
You recently linked up with Doll Beauty. What is it about them that you love?
'Firstly, I love how pink it is! It's so girly and the products are unreal. You can tell the girls at Doll Beauty put their all into creating their products. I must say, their bronzer and eyelashes are to die for.'
What advice would you give girls when it comes to finding their beauty and fashion style?
'I say who cares if your style is crazy or different – if it works and looks good, then teach others how to style the way you do! Another piece of advice is, you won't always find your perfect fashion style at a young age. You will change your styles so many times until the perfect one fits you!'
What are your 'can't live without' beauty items?
'I cannot live without bronzer. I love to look bronzed up when I do my make-up and the Doll beauty bronzer is the perfect shade for me. I also cannot live without mascara or false lashes, as I feel like the darkening of lashes completes your face when doing your make-up. There's something about it that makes you glow instantly after doing your make-up base.'
Whose overall beauty look do you admire and why? 
'It's always Kim Kardashian, as she pulls off every make-up look. Any time I get my make-up done, I always say, "make me as close to Kimmy K as you can!"'
What else do you do for self-care?
'I make sure my nails, eyebrows and hair looks good on a weekly basis. I've also really got into face masks lately. I tend to do peel off masks every other day (probably a little too often, I know!) but it seems to keep the spots away.'
Lastly, how's your love life since Love Island? Are you single or dating?
'I'm currently single right now. I feel like I am focusing strictly on my career and feel as though I don't have the time to date!'
What advice would you give to anyone entering Love Island next month?
'That you can't control anything! Believe in yourself and be yourself!'
Joanna is an ambassador for https://dollbeauty.com
Read Joanna's full interview in the New Year's Resolutions issue of Celebrity Secrets, out in OK! mag bumper packs from 7th January 2020.