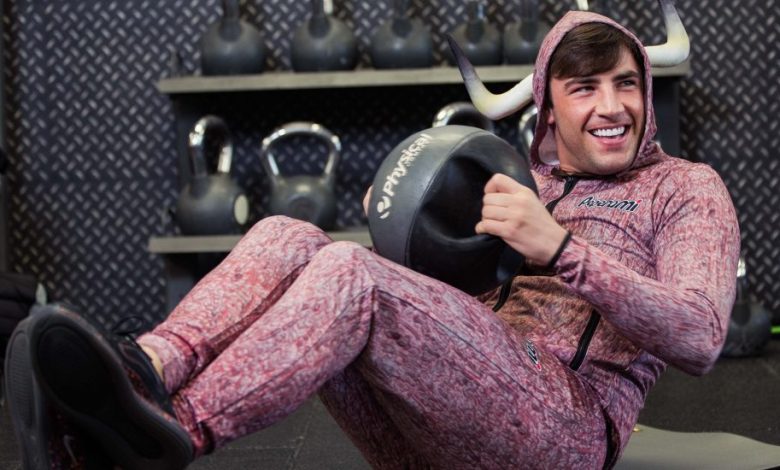 Tomorrow is the 66th day of the year – marking the day that we are most likely to break our New Year's resolutions…if you haven't already done so!
For those who set fitness goals and have missed the odd leg day please do not despair.
Reality TV star and Love Island alumni Jack Fincham has created a series of workouts to help beef up any gym routine.
The former pen salesman has teamed up meat snacking brand Peperami to launch its new Beef Bar – while sporting a limited-edition tracksuit.
Head over to Peperami's social media channels to be in with a chance of snapping up a meaty Peperami Beef Bod tracksuit or watch Jack Fincham's exercise routines in full.
JACK FINCHAM'S BEEFY BULKING WORK OUT
#1 Backwards Bull
Downward Dog is proper last year mate, true Meatheads do the Backwards Bull – a cheeky update on this classic yoga move.
#2 Beef Twists
Good things come to those who graft! The Beef Twists are a meaty workout that beef up your six pack (literally).
#3 Intense Mastication
We all need a break every now and then, so why not give your jaw a workout too and munch on a protein-packed Peperami Beef Bar.
#4 Bull Ups
Pull ups are basic, take them to another level in a beefy tracksuit. And, why not add a Peperami Beef Bar to the top to chomp on with each lift? Now, that's what you call Bull Ups.
#5 Raising the Bar
Why would you lift a kettle bell, when you can Raise a Peperami Beef Bar and eat it afterwards.
#6 Bull Ball
An exercise that's as hard to say as it is to do. Feel the burn as you ride the meaty Bull Ball, working up a proper appetite!
Peperami Beef Bar is available to buy in Tesco, ASDA, Sainsbury and most convenience stores.