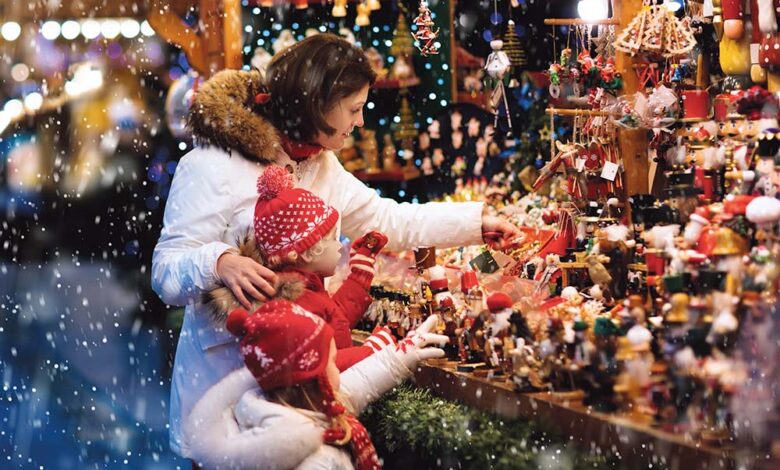 Whether a festive Berlin city break is calling your name, or you'd rather sip glühwein and guzzle bratwurst closer to home, we've got the best German markets for you to visit this Christmas.
Glistening bratwurst, sugar-dusted stollen, delicate crêpes doused in thick chocolate sauce and the heady spices of mulled wine: the striking flavours and scents of festive German markets have become familiar staples of British Christmastime. Arriving on UK shores in the winter months, the traditional markets bring with them stall upon stall of rich, delicious food and unique Christmas gifts, often handmade by the seller. Artisan clocks, nutcrackers, furry slippers and traditional gingerbread houses adorn the rustic wooden cabins of the market, enticing roaming shoppers into the festive glow of their fairy lights.
If you're looking for an excuse for a city break, why not explore the finest German markets at their home in Berlin? There are no greater German Christmas displays than these, from the Nordic Fairy Tale Market at the 18th century Britz Palace to Spandau's glittering renaissance fair. Potsdamer Platz's ice rink and The Berlin Winterzauber are all incredible sights to visit. The city is steeped in history and fascinating stories beyond the markets too, if you fancy exploring elsewhere.
For those too nervous yet to travel to the markets' homeland, some of Britain's most beautiful cities host the markets year on year, and provide an authentic European experience. Birmingham hosts the largest authentic German market in the UK, and in Europe itself outside of Germany and Austria. It entertained a whopping 5.5 million festive revellers in 2019, and this year the masses will return – just with a little more social distance and a few more Covid precautions. Festive, sparkling stalls line Victoria Square and wind down New Street, offering a veritable Smörgåsbord (or in German, bunte mischung) of Christmas delights and delicacies. This is a truly enormous Christmas market, one where you can get the full Frankfurt experience in the heart of England.
Alternatively, Edinburgh, with its striking volcanic skyline, towering monuments and outdoor ice rink in the heart of Prince's Gardens is a fantastic day or evening trip for the family. Explore the market, ride the sparkling Big Wheel if you're brave enough, and glug glühwein overlooking some of Britain's most impressive architecture as it sparkles with festooned festive lights. The Scottish weather is a little more temperamental than other hosting cities, but a warm mug of wine or a dram of the local whisky will quickly cure that icy cold nip in the air. Wrap up warm before you go, or treat yourself to some woollens and furry hats from a nearby stall.
To see your company in any upcoming features we are arranging please email laura@hurstmediacompany.co.uk or editorial@hurstmediacompany.co.uk