Celebrity Secrets catches up with the Love Island star on her charitable work, festive plans and her untold secrets.
What is the importance of the charity during the festive period, and why is Caudwell Children important to you?
Christmas is a time for giving. A time when we all come together and show our care and love for one another. we should also be mindful that there are many people and animals who find this time of the year very difficult. So giving back is so important at Christmas as something so small to yourself could be massive to another person and really make their Christmas ten times better.
Caudwell is important to me because every child deserves a good happy life no matter their circumstances. Caudwell do everything they can to improve the lives of disabled children and their families. After attending the butterfly ball I was overwhelmed with all the amazing things Caudwell has done to improve the lives of so many individuals .
How are you spending the festive period?
I'll be spending the festive period with my family and friends. It's actually the first time in years my family are altogether, my brothers were usually on tour with the army which always made Christmas difficult. This is the first year in a long time we are together as a family.
I will also be with my little nephew for his first Christmas which is exciting, plus my youngest brother and girlfriend are also expecting and due in a few weeks time. It's a family Xmas with some amazing wonderful additions, I couldn't be happier!!!
Tell me about some of the other lifestyle brands you are working with.
I've worked with a number of lifestyle brands, since leaving one of the main ones I'm excited about is Gym Cub. In fact I have something very exciting happening with them soon. I met them through their shop launch and fell in love with their products instantly. I honestly cannot wait.
Fitness is so important to having a good healthy lifestyle and if you can look and feel amazing at the same time then it's a big thumbs up from me. Alongside this I have worked with a number of fashion and beauty brands.
I also had the honour of meeting the author of Grumbalina Books as they were one of the sponsors at the Caudwell Butterfly Ball. Their collection of books are amazing for teaching young children such valuable life lessons.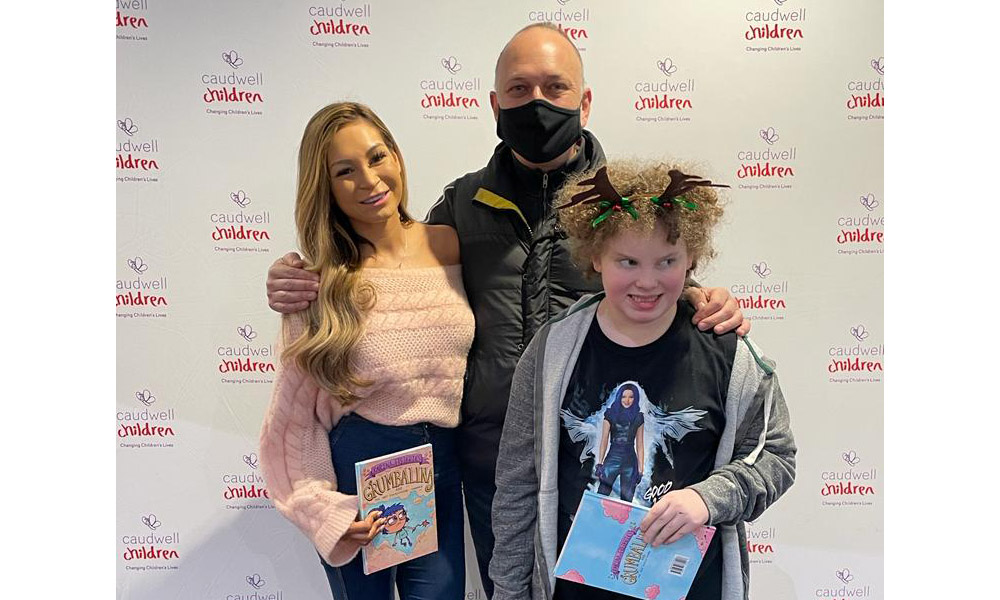 Have you got any tips for feeling your best over the festive period?
My tips are to make sure you make time for yourself, unwind and make the most of the smelly gift sets you receive under the tree and in your stocking. I say treat yourself.
We've all had a crazy year, so make sure you put your happiness first. Go and eat that Christmas turkey and pudding and try not to make yourself feel guilty for it, as we all deserve it. The new year is when we can work it off.
Have you been making the most of glamorous nights out or are you a homebody?
I am a social butterfly so you will usually see me out and I absolutely love it. I love meeting new people and making up for lost time and nights out I've missed due to Covid. However as we roll closer to the end of the year, I think home life is calling me.
My bladder and dancing feet need a little rest, and I know when the new year starts I need to be better at spending more time at home which will allow me make time for myself. I need try not to let FOMO get the better of me as it's okay to have some me time.
What is your usual going out ritual?
My going out ritual is to crank up the old school tunes whilst I get ready, which usually makes me late as I get too carried away singing. I've got to have a cheeky glass of something. I can't get ready in silence I need to get myself in the mood otherwise my bed would call me.
How has life changed for you since Love Island?
Life is crazy, it's amazing, it's overwhelming but great. I have gone to so many events, met incredible people and had amazing opportunities that I could only have dreamed of. That being said it's a busy life, so it's finding the balance between managing the old life and new – I wouldn't change it for the world though, even if I am knackered a lot of the time.
How did the show support mental health and dealing with fame?
Love island have been incredible. The show gave me the option to have a psychologist who checks in with me weekly as well as the show having their very own welfare team. After leaving they also got me prepped with how to deal with the new world I would be stepping into. I honestly cannot fault love island and the support that is offered in terms of your mental health.
Who are you still in contact with from the show?
I'm in contact with a handful of people, you may have seen from photos that I've formed a very close bond with Rachel and Amy, us girls literally talk every single day and they have been my rocks on this crazy journey, a journey no one will ever understand unless you've done it. I'm also in contact with Georgia, Kaz, Lillie and Brett, Harry. I'll always make time for people who want to make time for me. That being said I'll happily contact or talk to anyone if they wished to reach out.
What's a secret that not many people know?
So I'm actually really blind and wear saucepan glasses at night. I had to wear my contacts in the villa and take them out when everyone was sleeping.
Another would be that whilst I was in holding to go into the Love Island villa, I found my ex on this years Too Hot To Handle. What are the chances of two exes ending up on dating shows at the exact same time?
Finally, what are your plans for 2022?
I would love to get back into TV or go into radio. I think once you have a taste of it it's hard not to want to go back. I feel like my full true personality and self wasn't displayed in my short time within the Villa.
Alongside entertainment I would love to open my own salon. At some point I want to get some travelling under my belt if Covid allows it, oh and hopefully within all this I manage to find a man, as that search is still continuing.
To see your company in any upcoming features we are arranging please email editorial@hurstmediacompany.co.uk