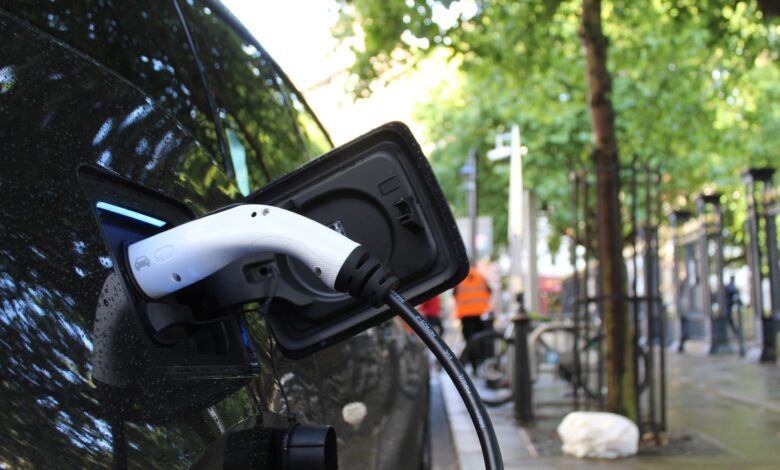 With the recent release of the government's Transport Decarbonisation Plan, and as we head towards the 2030 ban on petrol and diesel engines, what changes are being made across the UK in the move towards greener motoring?
As the country is now on track to ban new petrol and diesel cars, motorists, car manufacturers, and the transport industry are racing to be ahead of the game. However, it's not just vehicles themselves that will be changing.
Some of the major changes will occur in metropolitan areas such as London and Manchester, with the introduction of clean air zones. The look of the streets will begin to change as increasing numbers of on-street chargers and EV (electric vehicle) charging stations are introduced in order to keep up with demand.
Here we'll take a look at some of the biggest changes that are already underway.
What's happening in London?
To help improve air quality, an Ultra Low Emission Zone (ULEZ) now operates in London, 24 hours a day, seven days a week, except Christmas Day. Now imposed within the same area of central London as the Congestion Charge, most vehicles, including cars and vans, need to meet the ULEZ emissions standards or their drivers must pay a daily charge to drive within the zone. The zone is due to be expanded this year up to the North and South Circular routes in October 2021.
In a recent survey of Londoners by an insurance broker, Bikesure, it shows that 72% of drivers are considering changing their vehicle as the 2021 ULEZ expansion looms, with 20% switching to an EV or low-emission cars.
Although 84% of people will continue to ride or drive in the ULEZ following its expansion, 18.6% are set to choose two wheels over four, while 20% will switch to an EV (electric vehicle) or low-emission car.
Accessible for all?
'Range anxiety' and access to charging points are oft-touted as barriers to EV adoption, but projects, such as one being undertaken in the Borough of Lambeth, aim to demonstrate how affordable and accessible public EV charging infrastructure can be deployed to tackle EV inequality and drive greater EV adoption amongst those communities traditionally under-represented in the EV transition.
With EV ownership skyrocketing – UK registrations are up 117% in 2021 compared to last year – those living in urban centres, high-rise flats and council estates are significantly less likely to have access to a private driveway, making it difficult to install home charging solutions.
As a result, households which have access to a driveway make up 80% of EV owners, with the remaining 20% owned by those in houses or flats with no access to off-street parking.
The project in Lambeth includes 22 on-street EV chargers across 11 council estates in the borough to provide easy access to public charging, even for those without off-street parking. It forms part of the council's wider strategy to work with multiple charge point operators to install more than 200 charge points by 2022, with the aim of ensuring every household with no access to off-street parking is within a five-minute walk of their nearest charge point.
What's happening in Manchester?
Meanwhile in Manchester, a £120m Financial Support Scheme has begun as part of the work underway to get ready for the Greater Manchester-wide CAZ (Clean Air Zone), launching on 30 May 2022, with the first Automatic Number Plate Recognition (ANPR) cameras now installed, and a Financial Support Scheme due to launch in November.
All 10 Greater Manchester local authorities have approved the Greater Manchester Clean Air Plan, which includes a government-directed 'Category C' charging CAZ.
Greater Manchester's £120m government funding will help local businesses, people and organisations to upgrade to cleaner vehicles, so they can travel in a GM-wide CAZ without incurring a daily charge.
The CAZ is a key component of Greater Manchester's green revolution, helping to tackle the problem of air pollution, which contributes towards at least 1,200 deaths per year in the city-region.
New developments
Manchester will soon be home to the very first electric vehicle only forecourt and valeting centre dedicated solely to ultra-rapid chargers in the north-west of England. This is part of the owner's, Motor Fuel Group's, next stage of dual-fuel strategy to serve electric vehicle customers as part of its drive to become a major charge point operator in the UK.
Not only is this MFG's first EV-only charging hub, but this is Greater Manchester's first dedicated ultra-rapid charging forecourt, catering to all manufacturers of electric vehicles – helping to support mayor Andy Burnham's plans of doubling the size of the region's EV charging network as set out in his inaugural Green Summit in March this year.
The site will have eight dedicated ultra-rapid 150kW EV charging bays which can give 100 miles of range in just 10 minutes of charging.
What's happening in Oxford?
For those making the switch, or intending to make the switch to low emission vehicles, cities such as Oxford are also leading the way with the introduction of large-scale EV charging hubs. Oxford will soon be hosting Europe's most powerful electric vehicle charging hub, and work to install a high-powered underground cable that will deliver electricity to the UK's largest public charging hub at Oxford's Redbridge Park & Ride has already begun. This EV charging hub will help to decarbonise transport across Oxford.
Oxford City Council, Pivot Power, Fastned (a European electric vehicle EV fast-charging company), Tesla Superchargers and Wenea (one of the largest EV charging services providers in Europe) have teamed up to deliver the hub 100% renewable energy to EV drivers day and night.
The hub, initially featuring 38 fast and ultra-rapid chargers in a single site, is the most powerful in Europe – with up to 10MW of power on-site – and will scale up to help meet the need for EV charging in the area for the next 30 years.
It is the first of up to 40 similar sites planned across the UK to help deliver the charging infrastructure needed for the estimated 36 million EVs by 2040.
It's this kind of development and forward planning, that will hopefully keep apace with the country's transport decarbonisation plans.
As Grant Shapps, Secretary of State for Transport, recently said: "As we begin the road to recovery from Covid-19 and rebuild our economy and infrastructure I am clear we can't just go back to how we were before.
"We have the opportunity to create a more prosperous, stronger and greener country and transport will be at the heart of that."
To see your company in any upcoming features we are arranging please email editorial@hurstmediacompany.co.uk