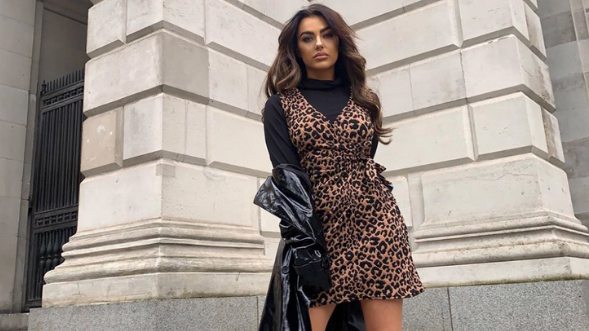 The Love Island star on health, fitness and the reality of social media
Interview Claire Muffett-Reece
Rosie, tell us about your new series, The Raw Truth on IGTV. What's it all about?
'The RAW Truth is a series I've created for IGTV whereby I focus on topics and issues that people seem to be concerned about, and are talking about today. I give my viewers the RAW truth from my perspective and an insider view of my life, and what I struggle with myself. I also have a celebrity guest in each episode as well as an expert on that topic. I am pleased to say that all my guests so far have been very open and honest about their experiences and I just hope that I can help someone somewhere that may relate to what we are talking about.'
What issues are you addressing and what do you hope viewers will get out of the series?
'Gaslighting, the Snowflake Generation, dentistry, aesthetics, women empowerment and trolling, to name just a few. I would love to get the show commissioned and make it into more of a chat show for the younger generation. Imagine Loose Women ­– but after the watershed! Social media these days portrays this perfect life that actually doesn't exist. Even on my Instagram everything looks perfect, and even I still compare myself to others on social media. There is so much more to me than an Instagram picture! I have my own worries, my own insecurities, my own bad days – people deserve to know the truth, so that they know the way they may be sometimes feel is perfectly normal.'
As much as there's a new rising pressure to #keepthegramreal women also shouldn't apologise for wanting to look their best. How do you think you can find a healthy ground?
'I think by being confident in what you choose to do on your Instagram. I always say to my followers that my Instagram is mine and as I can never please everyone with what I upload I just have to be myself. If people don't like it then they don't have to follow me. I will never judge anyone on what they do on their own Instagram, as it's their world to create.'
How do you cope with trolls?
'I deal with it a lot better these days. However, there are some days where the comments can really upset me and when that happens I usually just avoid looking at my phone and focus on life outside of social media. My head always tells me that it says more about the trolls than it does about me, but that doesn't mean it doesn't hurt my heart.'
Love Island is back on our screens this month! What did you think of last summer's show?
'I really enjoyed it! It was hard to watch at first, as I felt as though someone was in my house, sleeping in my bed, sitting on my bean bag and drinking out of my cup, but the more I watched the more I loved getting to know the characters in the villa. I actually wished sometimes that I went on this series instead of my own. I think Maura is my soul sister and we would have sassed it right up!
Are you pleased Amber and Greg won?
'I was really happy for Amber as she had a tough time in there and didn't deserve to be treated the way she was. However, I actually wanted Molly-Mae and Tommy to win. I felt that they were the only couple in there that proved how much they loved each other. It's Love Island and they deserved to win on that basis.'
Being in a bikini for weeks on the show must mean you're good at eating well and exercising…
'I always watch what I eat during the week, but enjoy the weekends and don't deprive myself of something if I'm desperate for it. Life is too short not to enjoy food, but everything in moderation! I am 28 now and I've noticed that my body is harder to maintain. My favourite foods are definitely steak, chicken, cheese, chorizo, potatoes and I love green vegetables.'
How often are you at the gym and what do you do?
'I have had a personal trainer since leaving Love Island and I try to go to the gym a few times a week. However, I've just moved into an apartment with a 24 hour gym and am hoping to go at least five times a week.'
Let's talk mental health and your battles with anxiety…
'At the age of 21 I suffered with anxiety during a horrendous relationship and over recent months my anxiety has surfaced again. I have spoken openly about it on my Instagram as I think it's important for my followers to know that everyone struggles and it's okay not to be okay. I have accepted that it may be something I always struggle with and I am learning what triggers it, as well as how I am able to calm myself. I think it's important to understand your own mind and find what can make you happy again when you're having a bad day.'
Follow Rosie on https://www.instagram.com/rosieawilliams/?hl=en
Read Rosie's full interview in the New Year's Resolutions issue of Celebrity Secrets, out in OK! mag bumper packs from 7th January 2020.