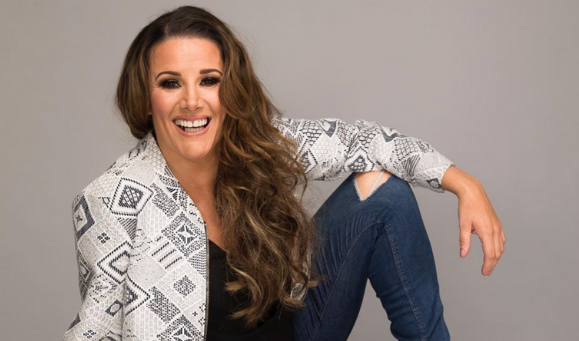 The X-Factor star Sam Bailey is starting the New Year on a healthy note – and is warming up for her toughest fitness challenge yet. Sam, who won the 2013 series of the singing competition, blames her love of chocolate and hectic life on the road for her weight struggles over the years. Now the Celebrity Slim ambassador plans to shed the extra pounds gained over Christmas in preparation for this year's London Marathon. We spoke to the singer about her new exercise routine, diet changes and advice for those looking to start the year on a high…
By Laura Forsyth
How does Celebrity Slim differ from weight loss methods you tried before?
'I feel the plan is a better one for me personally, as I find the daily meal replacements work well with my body. I also don't feel as hungry as I have done on other plans.'
Are you losing weight loss for health reasons rather than to fit in with a certain image?
'If I'm going to run 27 miles I will need to lose weight! The marathon is now only a few months away and I'm absolutely determined.'
Do you have advice for mums trying to lose baby weight?
'Just do it at your own pace, as so many women try to do this too quick. There is no rush! And make sure you get plenty of rest, it's so important to not burn yourself out!'
SAM'S DIET BEFORE
Breakfast: Nothing
Mid-morning snack: Chocolate
Lunch: Nothing – or crisps and chocolate
Afternoon snack: More chocolate or sweets
Dinner: Pie, chips and peas
SAM'S DIET NOW
Breakfast: Strawberry shake with fresh fruit
Mid-morning snack: Celebrity Slim snack bar
Lunch: Celebrity Slim meal replacement bar
Afternoon snack: Handful of raw walnuts
Dinner: Chicken and mixed veg or a recipe from the Celebrity Slim website
Snack: Low fat yogurt with berries, plus two litres of water throughout the day
Get the Celebrity Slim two-week holiday pack that includes the QuickStart guide and a shaker for £39.99 from celebrityslim.co.uk
Read Sam's full interview in the New Year's Resolutions issue of Celebrity Secrets, out in OK! mag bumper packs from 7th January 2020.