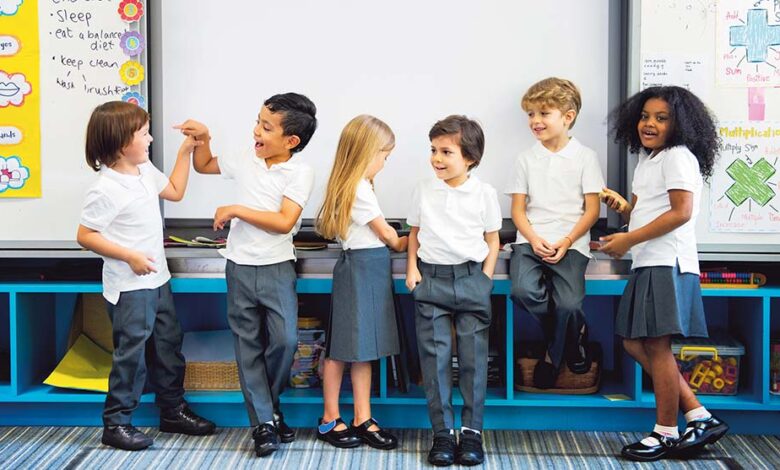 Starting reception is a huge deal for children – and the whole family. Help your little ones get ready for their big first day.
It is a massive milestone. Your little angel is four and set to begin primary school in September. Reception is intended to be a transition – play is still central and there will be lots of toys and games in the classroom.
Three prime areas of learning and development are focused on:
Personal, social and emotional development
Communication and language
Physical development.
You'll have helped your child prepare for these already through typical day-to-day situations.Simply spending time with children – ideally some of it one-on-one – is incredibly valuable.
Role play develops empathy, and turn-taking games are good for communication and patience.
New faces can be daunting so if you know other children joining the same class, get them together for a few playdates in the run-up to September so they have a familiar face with them.
Going it alone
Primary schools are big on independence. If you're still tying your child's shoelaces and buttoning up their coat, start allowing them to have a go themselves if it's appropriate.
It will take longer for them at first, but being self-reliant is good for their self-esteem and will mean they're not left frustrated. Same goes for toileting and eating.
It can be tempting to baby them a little – they're still so small – but they're learning independence and need to be able to look after themselves a bit more without relying on others.
Be ready for their emotions
If your child is anxious about school, listen and allow them to explain. It's possible they won't be able to pinpoint a reason for their nerves. Calmly talking them through what to expect, without going over it incessantly, can help them prepare mentally and emotionally.
Consider walking or driving the route a few times in advance so there's less uncertainty. Some children may want to try their uniform on a few days beforehand or talk about what their lunches will be like.
Be patient – this is probably one of the most significant changes they will have gone through. Children need to be listened to – don't dismiss their feelings or just insist everything will be alright.
Explain you understand this is a big change and it is not surprising they feel a bit scared. Chat about what they might expect and refer to their teacher by name to give a sense of familiarity.
There is, of course, a good chance your child is just excited and it's only the adults that are wracked with worry. This too, is perfectly normal, so try not to panic, and avoid showing your child anything but positive vibes.
And remember, after all the build-up to the big day, don't be too disappointed if your child doesn't want to talk much when you pick them up. It doesn't mean they necessarily had a bad day; they are probably exhausted and haven't processed it all yet. Chances are they'll start chatting once they've relaxed and you'll soon know absolutely everything about what they've been up to.
To see your company in any upcoming features we are arranging please email laura@hurstmediacompany.co.uk or editorial@hurstmediacompany.co.uk