The festive season can be a smorgasbord of over-indulgence and excess, with hearty meals, luxurious desserts and naughty snacks aplenty.
To delay the food comas and the chocolate overload, Checklist have put together this list of alternative advent calendars filled with both sweet and savoury options to keep you going until Boxing Day.
1. Cheddar Cheesies Advent Calendar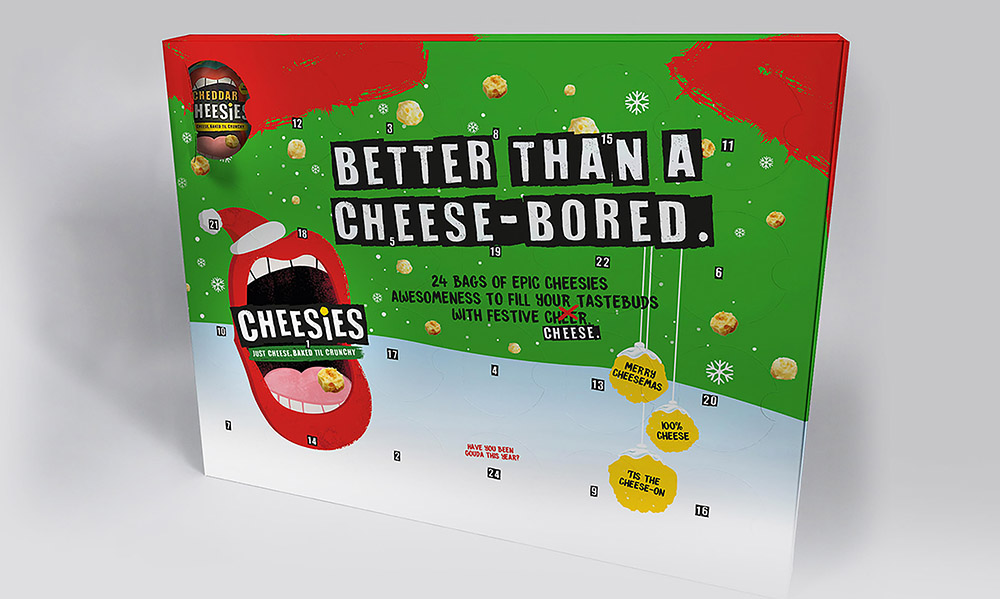 If you prefer the creamy tanginess of cheese than the sweet cocoa of chocolate to perk you up in the morning, you may have found yourself dreaming of an alternative to the traditional advent calendar. Thankfully, you can get your daily dose of dairy in December with a wonderfully cheesy advent calendar.
Countdown to Christmas by crunching your way through Cheesies' five classic varieties, Sharp & Punchy Cheddar; Strong & Tangy Red Leicester; Smooth & Mellow Gouda; Creamy & Bold Goat's Cheese and Nutty & Mild Emmental, as well as the new, special-edition Tongue Tingling Chilli Cheddar. Naturally, there'll be plenty of cheesy jokes to keep you feeling festive right up until the big day; tis the cheese-on after all.
Find out more at cheesies.co.uk
2. Haribo Christmas Calendar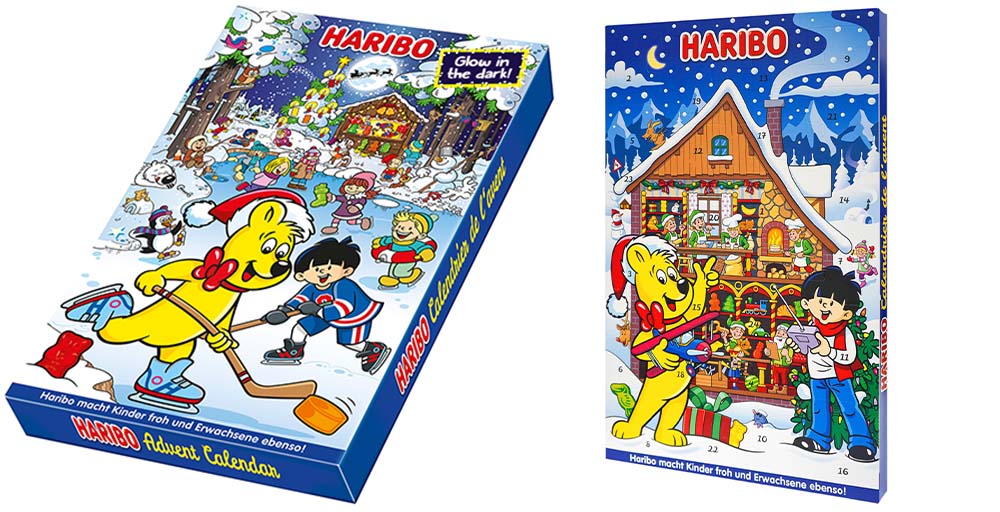 Didn't get enough sweets at Halloween? Fancy some more sugary jelly goodness? Haribo are back with a tangfastic advent calendar for your inner child.
The Christmas countdown just got sweeter and a lot more fun, with the new glow in the dark HARIBO Advent Calendar. Bringing together family favourite HARIBO's from across the globe, you'll enjoy a merry mix of treats. A tasty alternative to the traditional chocolate calendar, you'll have bags of fun this Christmas.
Find out more at bmstores.co.uk
3. Snaffling Pig Pork Crackling Calendar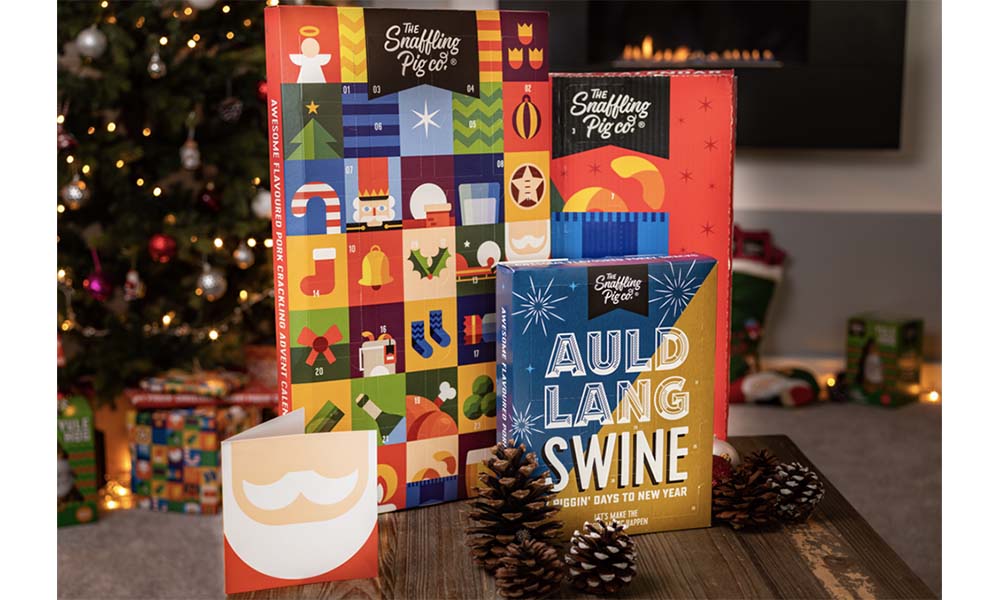 Advent calendars are great, right? Wonderfully delivering daily countdown-based treats, encouraging early morning snackage, and gleefully throwing normal eating times out of the cardboard window. But, if you're more of a savoury loving swine, they've tended to be a pigging' let-down.
The Snaffling Pig decided to right that wrong because he's good like that.
As you may have guessed, behind each of the windows you'll find a mini bag of awesome-flavoured pork crackling. Sadly, none of them will be in the shape of a bell or a Santa. Even SP isn't that clever. But what they lack in festive shape, they make up in crisp, crunchy loveliness.
Find out more at snafflingpig.co.uk
4. Popcorn Shed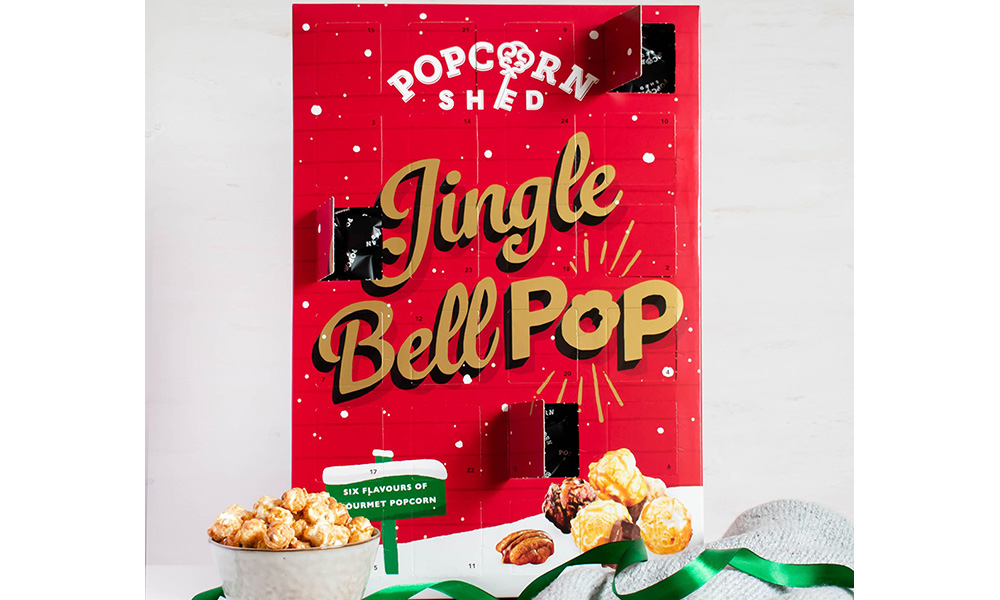 If you find yourself dreaming of the cinema, not necessarily for the flicks but for the wonderful snacks, Popcorn Shed has the advent calendar for you. No longer will popcorn be relegated to a film-watching treat.
Behind each of the windows you'll find a bag of delicious handmade popcorn. Be sure to eat them all before Christmas, otherwise Santa and his hungry reindeers may eat them all on Christmas Eve.
Why settle for the same chocolate every morning when you could indulge in 24 bags of yummy popcorn in six uniquely mouth-watering flavours, including salted caramel, peanut butter and raspberry dark chocolate.
Popcorn Shed also offer a vegan and free-from version of this advent calendar, so there's no excuse not to indulge.
Find out more at popcornshed.com
5. HaPPi Oat Chocolate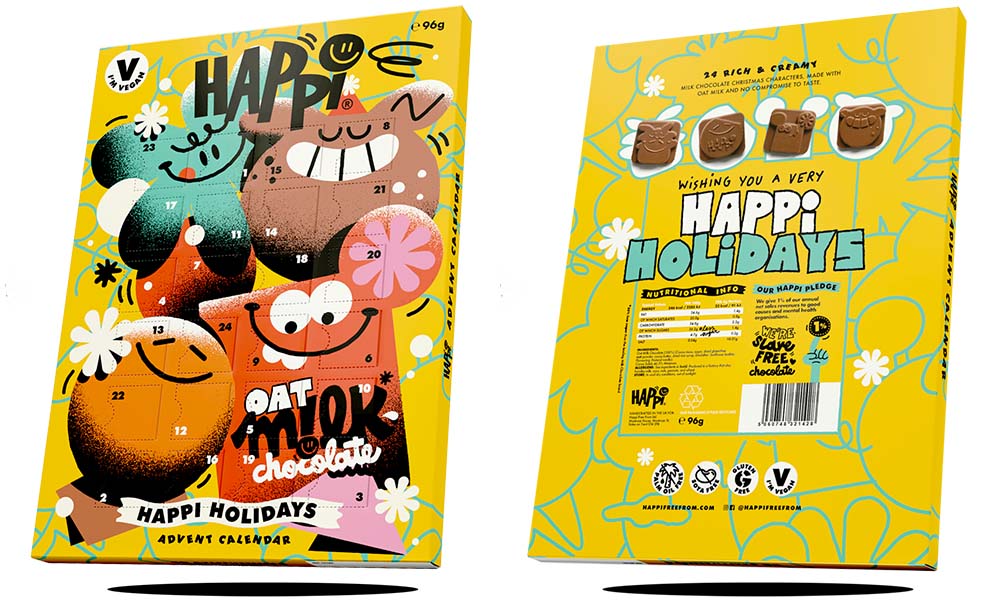 Now this one is slightly closer to the usual chocolate-filled advent calendars, but with one important twist. HaPPi produce ethically-sourced vegan chocolate made with oat milk.
With 100% sustainable and recyclable packaging, HaPPi's advent calendar is a perfect alternative for your vegan acquaintances or your dairy-intolerant friends this December.
Find out more at happifreefrom.com
6. MunchKing's Nut Calendar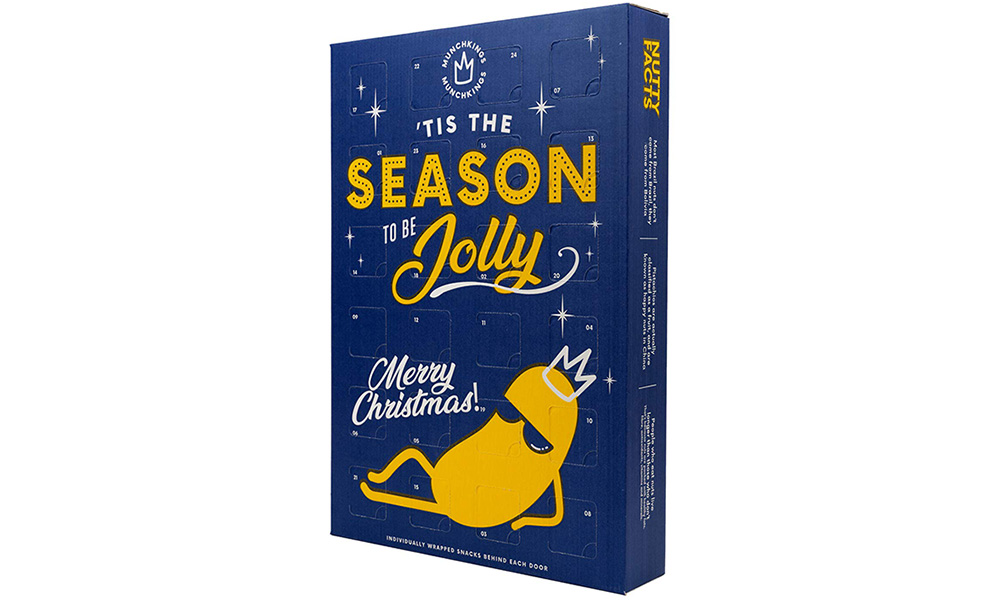 If you'd rather chow down on some chilli peanuts instead of some sugary sweets,
MunchKings are the Christmas delight to help you get festive with this delicious snack calendar.
Contains 8 Different types of snacks for the 24 windows, 5 suitable for Vegans, including Smoked Paprika Coated Peanuts, Corn Combo mix, Chocolate Peanuts & Yogurt Raisins, Hotel mix, Smoked Almonds, Chilli Coated Peanuts, Wasabi Peanuts and Honey Peanuts
A3 in size and contains generous portions to start every day on the run up to Christmas, why settle for chocolate after chocolate when you can treat yourself to some savoury instead.
Find out more at amazon.co.uk
7. The Naked Marshmallow Co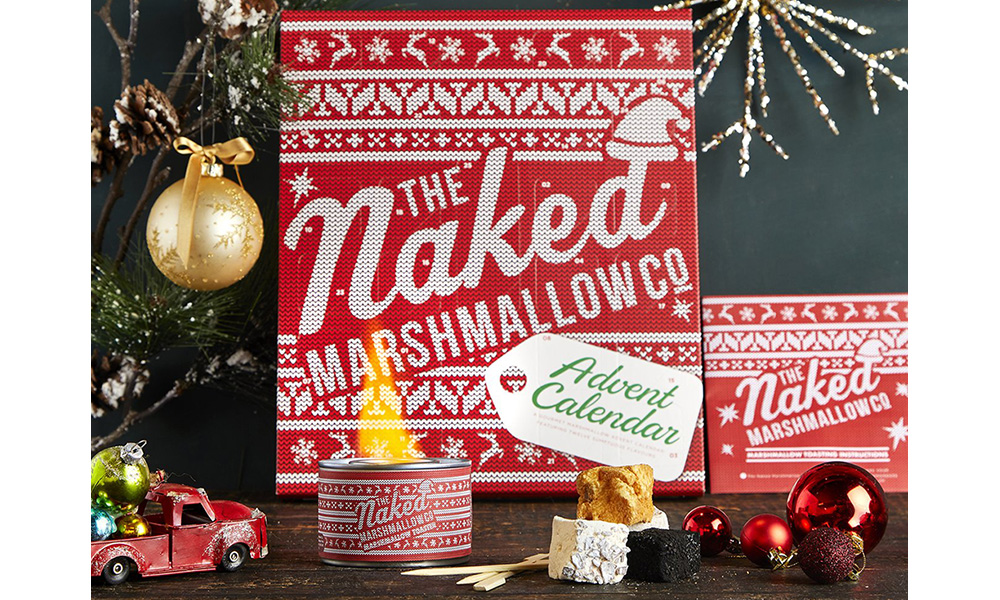 The time for smores is upon us, with this marshmallow advent calendar. Lovers of campfires and sugary goodness will rejoice every morning until Boxing Day.
Behind each door, you'll find a delicious piece of handmade gourmet marshmallow in a selection of sumptuous flavours.
That's 25 deliciously gooey pieces of heaven to savour this Christmas and a great motivator for getting out of bed on those cold Winter mornings.
On the reverse of each door, you'll find out which flavour you'll be enjoying that day, as well as either a festive joke, fun fact or exclusive online discount code to be redeemed on The Naked Marshmellow Co's website.
Find out more nakedmarshmallow.co.uk
8. Foda Box's Savoury Snacks Advent Calendar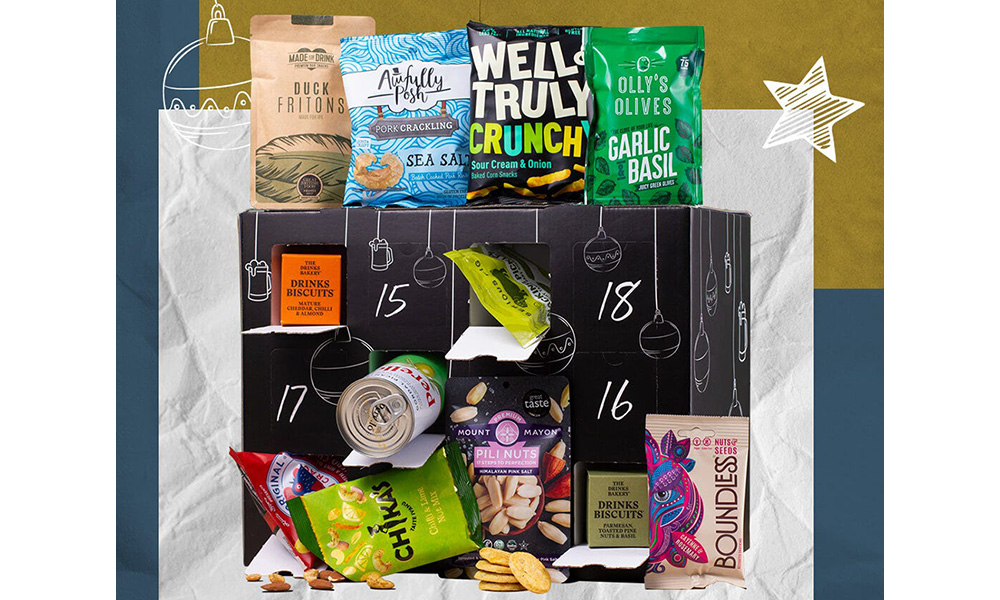 If you're still on the fence regarding savoury calendars, or maybe just cant pick one, this calendar is the one for you. Filled with a variety of festive savoury snacks, Foda Box's assorted calendar provides something for everyone, if you were ever inclined to share.
This advent calendar is filled with Foda Box's finest artisanal snacks. Over 12 different independent brands are featured in this savoury feast. From crunchy crisps to prime cuts of meat, this calendar is an absolute must-have for any savoury snack lover.
Find out more at fodabox.com
9. C&T's Liquorice Calendar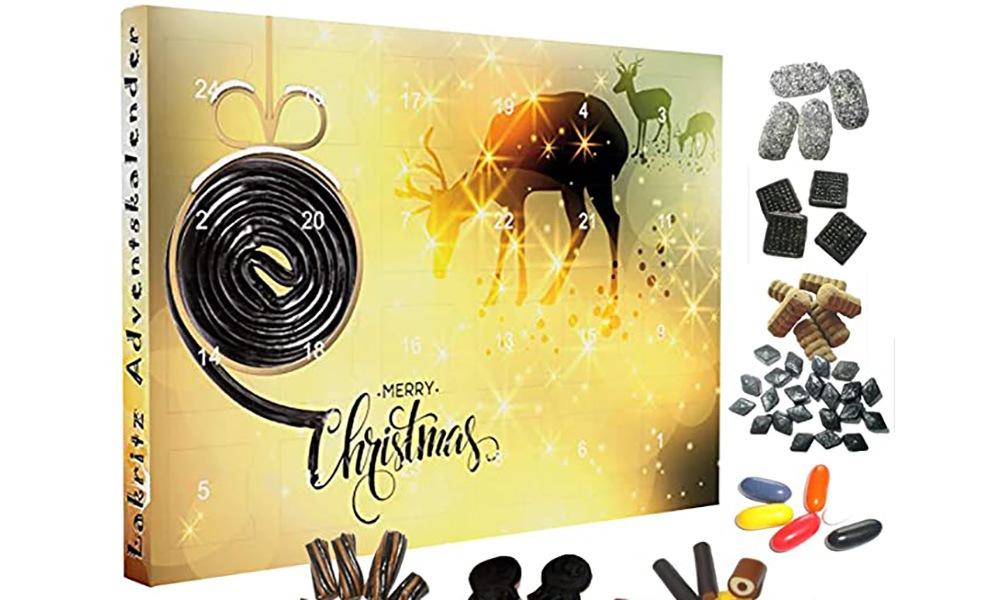 For those who would rather black laces of liquorice instead of bite-sized chunks of chocolate, C&T have produced the ultimate advent calendar.
With 24 delicious liquorices and selected delicacies for connoisseurs and sweet toothers, this calendar will have you munching your way through to Christmas day in no time.
The exciting mixture of strong adult liquorice, sweet blends, classic liquorice slices, salty talers, salmiak pastilles and christmasy cinnamon liquorice will have you explore the gamut of liquorice like you've never experienced before.
Find out more at amazon.co.uk
10. Pringles Advent Calendar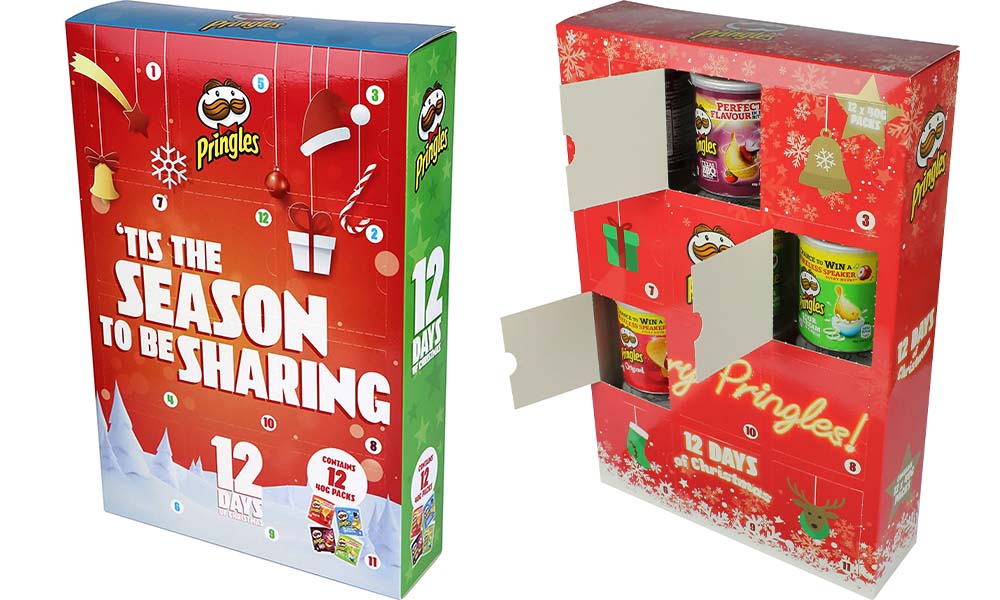 Come one, come all to Pringles first ever attempt at a festive advent calendar.
Crisp-lovers unite over 12 days of assorted tubs of seasoned potato-based snacks, perfect for when the sudden onset of the munchies.
There are four different flavour tubs to be popped open with this calendar, including Original, Sour Cream & Onion, Salt & Vinegar and Texas BBQ.
Find out more at amazon.co.uk
To see your company in any upcoming features we are arranging please email laura@hurstmediacompany.co.uk or editorial@hurstmediacompany.co.uk