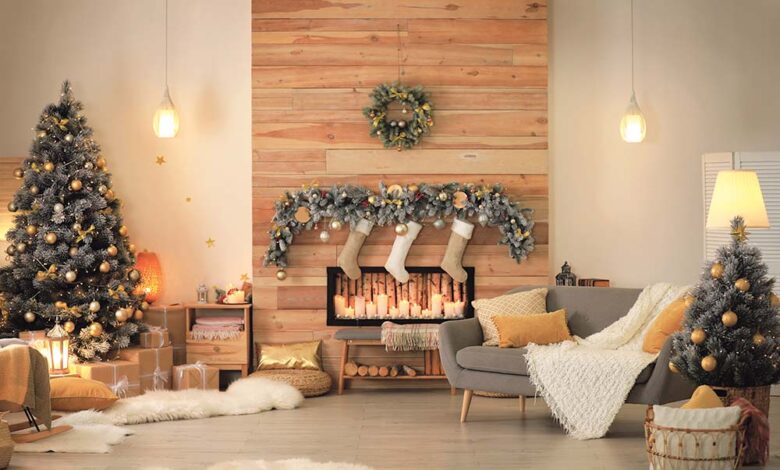 Tired of the same tinsel and tree decorations? Retain classical festive style while celebrating your family's own heirlooms and individuality this Christmas.
A perfectly dressed Christmas tree is the towering centrepiece of all festive decorations, so it's important the tree reflects the personality and space of your family home. Setting up your own tree can be a festive minefield of decision making. Douglas fir or Scotch pine? A striking, classic tree dressing blended with some personal, unique-to-you touches is the perfect way to have a beautiful tree that celebrates your family quirks and history.
Your first crucial decision is the tree itself. Renting a living tree is the latest trend, not only because it's a sustainable, low-waste option, but because you can establish new family traditions by replanting and reusing the same tree year on year. Companies like Cotswald Fir allow families to see their trees grow over time, and the trees themselves are allowed to flourish between January and November, providing homes for wildlife and oxygen for the air we breathe. This wonderful familiarity creates new affection and attachment towards the family tree, and prevents you dragging a dead pine out to the bins in early January.
To personalise the tree, collect hand-painted or glass-blown baubles from your foreign travels throughout the year, so that at Christmas you can reflect on past holidays. If you're artistic and skilled at crafts, you can also buy plain glass or plastic baubles and hand-paint them with acrylics – a fun, festive activity for the grandkids, too, if you can handle the mess.
Capturing great lighting is imperative in setting the right tone for your Christmas festivities. Frenetic, flashing multi-coloured lights do not create a soothing ambience for family meals, games or relaxation. A soft, calming, nurturing glow in copper or warm white will eliminate the coloured glare and give your home a 'peace on earth' vibe over 'disco dancefloor.' Experiment with different shapes of bulb that add an extra decorative element to your tree, such as John Lewis' firecracker, or traditional candle-shaped lights.
Tinsel alternatives are becoming more fashionable, as the push toward sustainable living intensifies. If you'd like to switch up your usual glittery garlands for something a bit more eco-friendly, paper craft tinsels offer a recyclable alternative and don't shed shiny shreds of plastic all over the house.
To see your company in any upcoming features we are arranging please email laura@hurstmediacompany.co.uk or editorial@hurstmediacompany.co.uk