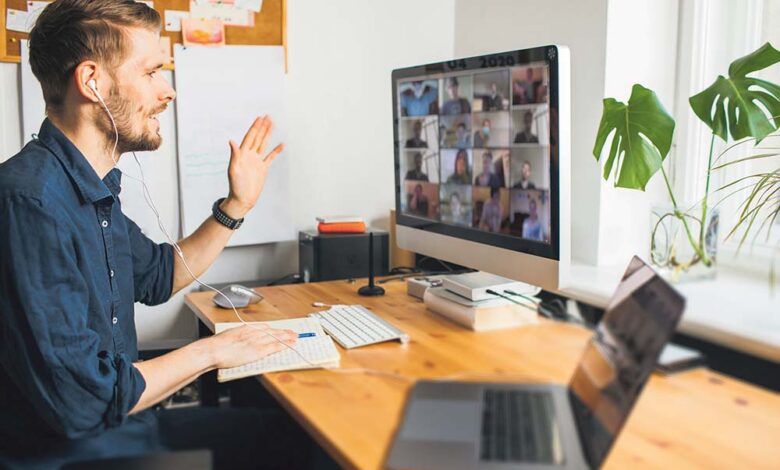 Hybrid working is here to stay for companies throughout the UK, which means it is time to adapt to the evolving workforce.
Many of us have had to adapt to home offices during the pandemic. With attention-demanding children and pets, home-working spouses, housework and home-schooling all under one roof, the distractions and difficulties of home working have presented an array of challenges to employee productivity. Despite these setbacks and the original adjustment period, many workers are now pushing for more regular remote working in the return to the 'new normal', with the trend leaning towards a 'hybrid' set up; some days spent in the office and the rest at home. Research shows that Gen Z workers in particular are pushing to split their time between home and office to get the best from both worlds.

Employers may understandably feel cautious or uncomfortable with the prospect of staff working out-of-office for half of the week. Although the benefits for staff are clear; among them cheaper lunches, child-care flexibility, home comforts, and lack of commute, it could be argued that business owners gain little from having a team work remotely. Employers may want to consider investing in monitoring software to help manage their remote teams, allowing them to assign tasks and track their progress throughout the day. You will be able to see how long it takes an employee to complete a task, and will also remove the back-and-forth email chasing between managers and staff as the job is in progress.

Regular communication between employees is crucial to keep remote workers engaged, but be careful of 'Zoom fatigue' and overloading your staff with onscreen meetings. If a chat can happen face-to-face on office-working days, consider rescheduling so that you can discuss with them in person. It will be much easier to pick up natural physical cues and foster a welcoming atmosphere in these circumstances, rather than on a video conference. Offering bonuses and target incentives can also help drive remote workers to maximise their time and boost overall morale. Recognising and rewarding an employee's hard work will help keep them motivated and make them more likely to meet or exceed their targets. Focusing on a team's accomplishments and achievements will help bolster remote workers' overall sense of purpose and wellbeing. This coupled with continuous feedback will allow the team to develop their skills over time and focus on areas that need the most attention.

Offering flexibility is key to retaining and motivating remote and hybrid workers. Should they need to collect their kids from school in the early afternoon, or attend an important doctor's appointment, employers should endeavour to arrange a schedule which allows them to do so. One of the main obstacles in remote working can be technology; if your employees don't have the correct equipment, or their equipment is not fully functioning in a remote environment, their productivity will be impacted and half of the day could be spent trying to overcome the problems it presents.

One of the main aspects of home working is the trust you place in your staff. If employees feel that managers are suspicious of their work-from-home output, or constantly bombarding them with emails and messages to 'check-in' on their whereabouts and workload, it fosters an unhealthy surveillance culture and can breed animosity between employees and managers. Finding ways to mitigate these issues, such as investing in software to manage employee schedules, and having weekly meetings to summarise the achievements of the week, rather than check-up on them frequently throughout the working day.
To see your company in any upcoming features we are arranging please email editorial@hurstmediacompany.co.uk