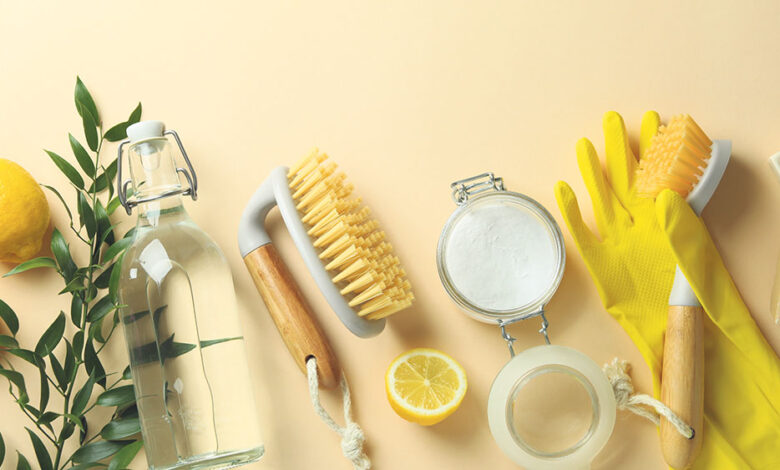 Here we take a look at ways in which you can clean your home, be kind to the planet, and get rid of those nasty chemicals.
We all want to clean safely and sustainably around the home, in ways that are not only effective but that will also have minimal impact on the environment. Whether it's by buying the most eco-friendly cleaning products, or using clever, homespun eco-friendly cleaning techniques. If you have children, health conditions or even sensitive pets in the house, then this can also be a strong driver to make your home cleaner and greener.
Here we spoke to three experts in the field of greener cleaning, for their top tips.
Helen Bee, founder of the multi-award-winning, planet friendly and refillable cleaning brand, Clean Living, says: "Skip chemical scents. Air fresheners might smell pleasant, but they're incredibly harmful to both the environment and to us. Particularly if you suffer from asthma! There are lots of alternative ways to freshen up the air in your home; add some air purifying plants, dot scented pouches of lavender around, or diffuse essential oils instead."
Von Sy, founder of plant-based cleaning brand Nimble, agrees: "One thing to be wary of is fragrances. Although they make the cleaning up chore more pleasant with the smell of flowers, citrus, and lavender, fragrances are made with a complex range of chemicals. And don't be deceived by clever branding – just because a bottle has an 'eco' look and feel, make sure you read the label for the detailed ingredients."
And it's these ingredients, from the chemicals in the products to the plastic packaging containing them, that cause even greater harm to the environment.
Managing director of Ecovibe, a dedicated eco-friendly products retailer, Stacey Skidmore, says: "Minimise plastic where you can, this can be through using refillable glass spray bottles in place of the traditional single-use plastic bottles, or even using soluble cleaning sachets, which dissolve in water. Also, avoid toxic chemicals where you can. A common myth is the stronger the chemical, the more effective the product will be. However, natural ingredients, such as essential oils and plant extracts work just as well alongside certain antibacterial agents."
Von Sy adds: "Most of the mainstream cleaning products are over-formulated which means they contain unnecessary levels of chemicals that can be harmful to a young child and the environment. Manufacturers do this so they can make bold marketing claims like they are '10 times more powerful', so with this in mind one thing you can do is dilute the regular cleaning products you use – they are just as effective but reduce the amount of chemicals you are using."
So, whatever practical steps you take to cleaning greener, there's one that will make a huge difference overall, and that lies in your consumer purchasing power – all of us should take the time to purchase more thoughtfully.
Helen Bee says: "A more sustainable lifestyle starts by making considered purchases. Before you purchase any product, ask yourself if you really need it. Or whether you can buy a more planet-friendly alternative. There are incredible brands out there offering eco-friendly alternatives. Just read labels carefully to ensure products really are as good as they claim to be."
To see your company in any upcoming features we are arranging please email editorial@hurstmediacompany.co.uk